The Clinicians
We have carefully selected a team of highly skilled professionals who share our commitment to providing the best level of care to our patients.
DR VIKAS BHASIN BDS Hons (Syd. Uni.)

Vik has 15 years of orthodontic experience and has completed a 2-year further study course in Orthodontics...

read more...

DR VIKAS BHASIN

Dr Vikas Bhasin was born and raised in Western Sydney. With aspirations to doing something hands-on, where he could play with the latest technology, dentistry seemed the perfect profession. After graduating from the University of Sydney with Honours in 1996, Dr Bhasin worked in Camden for 3 years, before travelling to the United Kingdom. Upon returning to Australia, he spent the next few years gaining experience in a wide range of dental practices in Sydney, Newcastle, Wollongong and Taree.

Since purchasing Camden Dental Centre from Dr Arnott in 2006, Dr Bhasin - or Vik as he likes to be known - has set about modernising the practice to provide the best that dentistry has to offer. In addition to general dentistry, Vik has attended numerous implant courses and enjoys implementing the latest techniques for his patients. He has 15 years of orthodontic experience and has completed a 2-year further study course in Orthodontics. He also regularly visits the local private hospital where he removes wisdom teeth and provides general dentistry under anaesthesia for kids and adults.

Vik's philosophy is to explain all the available treatment options to his patients and to support them in achieving their dental goals. He is a member of the Australian Dental Association and has been a clinical educator at Sydney University for a number of years.

Outside of dentistry, Vik has a passion for flying (general aviation) and playing golf. He loves spending as much time as he can with his beautiful wife and daughter and son, who he spoils outrageously.

read less...

DR KHUSHPAL BHASIN BDSc (Qld. Uni.)
Grad Dip Clin Dent (Adel. Uni.)

Khush has undertaken numerous courses on topics as diverse as crowns and bridges, full mouth rehabilitations...

read more...

DR KHUSHPAL BHASIN

Dr. Khush Bhasin grew up in Townsville and completed her dental degree at the University of Queensland, graduating in 2001. She initially worked on the Sunshine Coast before moving south, working for a time in both Melbourne and Adelaide. After marrying Vik Bhasin in 2010, Khush settled in Camden and has worked alongside her husband ever since.

Through the years, Khush has undertaken numerous courses on topics as diverse as crowns and bridges, full mouth rehabilitations, oral pathology, children's dentistry and periodontics (gum treatments). Her love of general dentistry culminated in 2007 when she took a year off from work to study a Graduate Diploma in Clinical Dentistry. This has deepened her ability to handle all aspects of general dentistry.

In her efforts to give back to society, she has volunteered her dental services to assist refugees, the homeless and underprivileged. She has also worked in India with Equal Health to provide dental services to orphans and others who have limited access to dental care. In addition, Khush tutors at the Dental hospital in Clinical Dentistry.

When she's not at work, Khush likes to spend time with her young daughter and husband, bike riding, catching up with friends and watching movies.

read less...

DR JOLYON DYER BDent Hons (Syd. Uni.)

Jol has developed strong interests in cosmetic dentistry, including CFAST quick braces and cosmetic bonding, along with helping anxious patients through sedation "twilight or sleep" dentistry...

read more...

DR JOLYON DYER

Dr. Jolyon Dyer's passion for healthcare and a desire for hands-on work meant dentistry was an obvious career choice. This seed was sown early as even his Year 1 "when I grow up" answers showed that 6-year-old Jol was keen on being a dentist.

Jolyon first graduated with a Bachelor of Advanced Science on the Dean's Honours list. He then went on to earn a Bachelor of Dentistry with Honours, gaining the awards of clinical proficiency in oral surgery, clinical proficiency in oral pathology and proficiency and professionalism in all clinical components of the course.

In his first few years of practice, Jol moved to Dubbo, enjoying a relaxed lifestyle and far less traffic. However, with a fiancé based in Sydney, Camden provided the ideal balance to settle into long term practice.

Here, Jol has developed strong interests in cosmetic dentistry, including CFAST quick braces and cosmetic bonding, along with helping anxious patients through "twilight" (treatment under intravenous sedation) or "sleep" dentistry (treatment under general anaesthetic).

Jol also has a passion for travel and has used this passion to help set up dental clinics in Uganda and the Democratic Republic of the Congo. Other interests include all things sport, but especially cricket, football, soccer and baseball. In his spare time Jol also enjoys fishing, photography and anything slow-cooked.

read less...

DR AAKRITI BHOLA BDS (Adel.)

Aakriti places a lot to importance on preventative care and being up to date with the latest dental knowledge...

read more...

DR AAKRITI BHOLA

Dr. Aakriti Bhola grew up in the laid back town of Hobart in Tasmania. Living in Hobart and interacting with the people moulded her personality into a friendlier and more patient one. It also helped her to be accepting of people from all walks of life. From there, she moved to Adelaide to complete her Bachelor of Dental Surgery at the University of Adelaide in 2007.

Aakriti's professional life started in Tasmania with a government scholarship, which involved a 6 week clinical placement. From there she moved to Hobart for two and a half years before moving to Melbourne. There she worked for two years before marriage brought her to Sydney in 2012.

Being up to date with the latest dental knowledge is very important to Aakriti. As such, she has undertaken various professional development courses in the fields of: crown and bridge work, endodontics (root canal therapy), Invisalign (clear braces) and periodontics (gum treatment). Her ambition to further her professional qualifications led her to successfully undertake the primary examinations of RACDS (Royal Australian College of Dental Surgeons).

As a dentist, Aakriti places a lot to importance on preventative care. She would like to prevent her patients from having to see her too regularly! Having a compassionate nature, Aakriti volunteered her services as part of a medical and dental team in Fiji. This involved three weeks of working through the remote area in Fiji providing care to the needy.

In her leisure time Aakriti takes a keen interest in playing tennis, swimming and is a novice yoga addict. She also likes dabbling in ceramic pottery and jewellery making. Aakriti loves to travel to as many places around the globe as possible. Her other passion is trying her hand at cooking different cuisines, a past time that her husband heartily approves of.

read less...

KRISHNA BRAHMBHATT BOH (Syd. Uni.)

Krishna is passionate about providing oral health education and has a particular interest in treatment of the gums...

read more...

KRISHNA BRAHMBHATT

Krishna (Oral Health Therapist)

Krishna Brahmbhatt graduated from the University of Sydney with a Bachelor of Oral Health. As a graduate she was sure she wanted to work with children and hence went to work for ACT women and children's clinic in Gungalin and Canberra. She worked there full time and was heavily involved in dental promotion for kids, doing school checks among other things. During her time there, she was also part of a team implementing the hygiene program for the state.

She is passionate about working with kids and providing dental education. She provides dental care for our paediatric patients between the age of 0-18. She also takes particular interest in the treatment of gums, infections such as; including gingivitis and periodontitis.

Krishna is committed to continually growing her knowledge and frequently attends seminars, seeking the latest available information, on topics such as; paediatric dental and the relationship between gum disease and overall health. She aims to ensure that she always remains at the forefront of preventative work, aspiring to curb the presence of debilitating health problems that can relate to dental health.

In her spare time she enjoys dancing. She also enjoys cooking but has been recently banned from the kitchen, due to an accident with a blender. Krishna also wants to travel the world and is starting with one country a year.

read less...

NICOLE HOCKING ADOH (Adel.)

Nicole is passionate about improving a patients overall health, starting with their oral health. She has a keen interest in periodontal (gum) disease...

read more...

NICOLE HOCKING

Nicole graduated as a Dental Hygienist from Adelaide, with an Advanced Diploma of Oral Health (Dental Hygiene). Nicole's love for Oral Health started in 2009, when she started working as Dental Nurse. Over the years Nicole furthered her studies in Dental Nursing, eventually deciding to study Dental Hygiene.

Upon graduating, Nicole received the Oral B Award for Outstanding Preventive Oral Care.
Nicole is an active committee member for the NSW branch of the Dental Hygienist's Association of Australia. As part of the DHAA, she helps organise and attends courses across NSW and Australia, keeping fellow Hygienists up to date with the latest advances in the profession.

Having grown up in the South West of Sydney, she has a love for the area and the people. Nicole and her husband plan to settle in the local community, and are excited to see what the future holds for Camden. In her free time Nicole enjoys singing, dancing, going to the theatre and attending her local Church.

read less...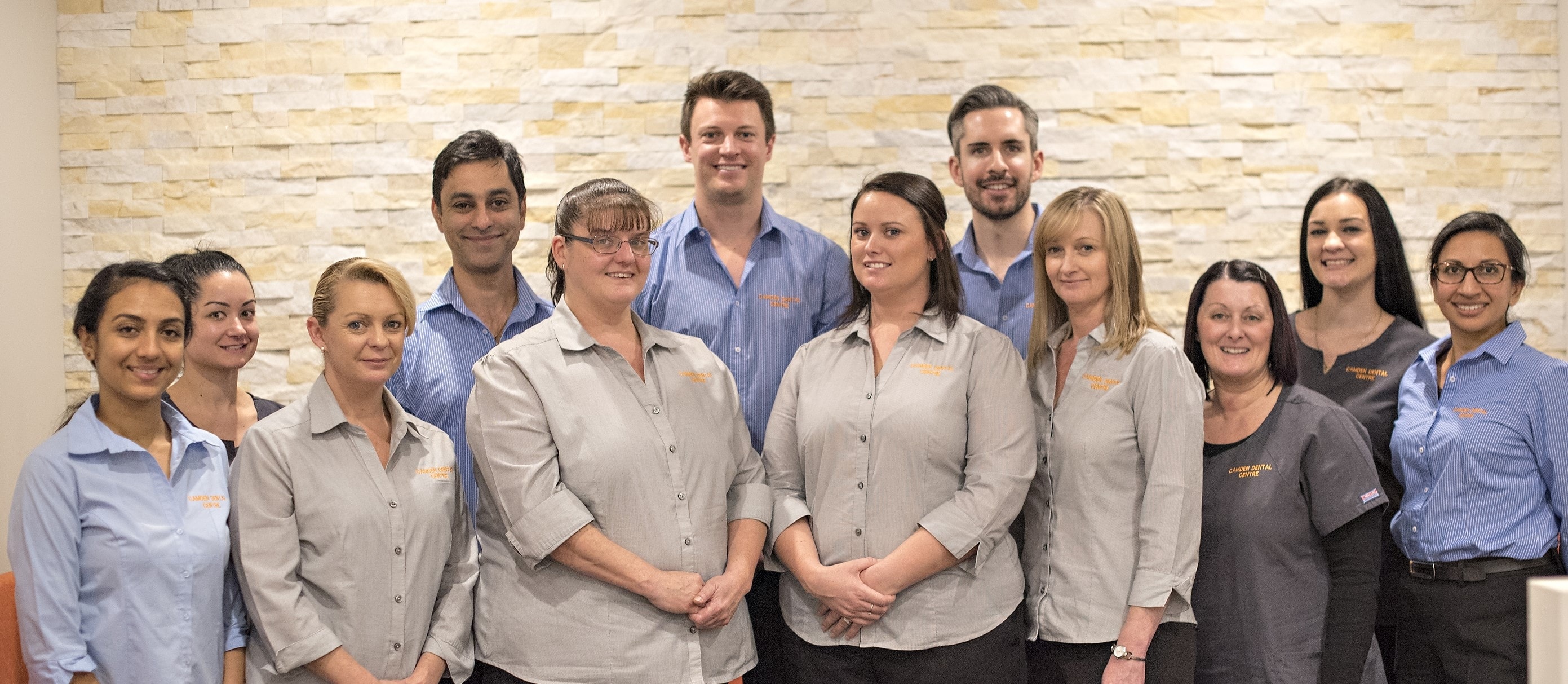 Meet our staff
We have a great team of caring, warm and friendly people.
We are proud of our highly skilled team, who are always happy to do all they can to ensure you are comfortable.